The superdooper hero named Super Clem was born June 13. She worked in the dishpit of her mother's restaurant and decided that she was really good at scrubbing germs off of the pots and dishes. Now, she fights all kinds of evil-doers and other politicians. Watch out for Super Clem with her Plunger of Truth as she protects the innocent.
Visit Jessica Lee at
Lost In Absence
Super Phase
Tish-Writes
Iconoclastic
Wiseman
Splotch!
Nov 24, 2004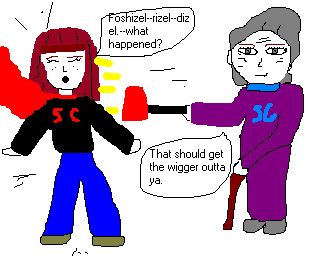 Posted at 10:01 am by
upsidedown
Clintz


December 1, 2004 10:20 AM PST



DE-WIGERAFICATION!
.tishbite.


November 24, 2004 10:09 AM PST



lmao i think we need to de-wiggerfy some ppl