The Gal Pal Gang Revolution Has Arrived
Since the 1950ís, there have been these phenomenal characters called Super Heroes. Over the years, the value of superheroes was diminished, as evil sought to envelop the Earth. But, hope was till present, as the year 1989 came around. Seven girls who would become the next breed of superheroes were born and it was their destiny to protect their town of Kemptville and the world. Each young girl gained their superhero through some sort of freak accident or turn of events that gave them super-duper powers. Most of them were given a mutation of their body part. However, they didnít have those boob guns you may see on television (still affective though).

They all discover that they have these extraordinary powers and form the first group of all-girl superheroes. They become The Gal Pal Gang. This may sound like a name chosen for a Scooby Doo spin-off, but it worked for them (mainly because it rhymed). They would become the most loved and feared group in all of Kemptville. Follow their adventures as they save the innocent from imminent doom! You may document their lives as The Gal Pal Gang explore and add adventures to the book. You are the chosen ones to be given the care of these scriptures of their life, so take care of this book. Super speed!

Posted at 07:26 am by
upsidedown
Permalink
My friends have already seen this one from my Dummy Cream Zine Iss. 5, but I thought I'd post it as a beginning to the new gal Pal series I am starting (more surprises for that later).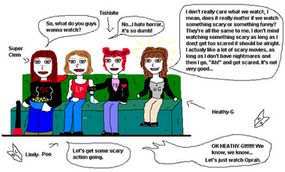 Posted at 02:43 pm by
upsidedown
Permalink
Super Clem Meets Super Grandma
Super Clem vs. The Weather
Super Clem vs. Killer Goats Pt.2
Super Clem vs. School Idiots
Super Clem vs. Killer Goats Pt.1
Super Clem is her name and fighting evil is her game. This brand new super hero named Super Clem, is the alter ego of a miss Jessica Lee, who was tired of just standing by as evil-doers did their evil-doing. Her many adventures will be posted here, if you want to keep track. Super Clem may be the one to save you.
~Till Later,
Jessica Lee

Don't forget to vote Americans. Every vote counts. It's such a pity we don't have any worthy candidates, but you know what's right. Do what's right folks.

~Super Clem
Posted at 04:47 am by
upsidedown
Permalink